If you're looking for interesting trivia about countries, or simply looking to appreciate some interesting facts about different countries, you've come to the right place.
At times, my endless curiosity perpetuates itself in peculiar ways.
For example, one fine afternoon I spent my time (and some would argue "wasted my time") searching the internet for intriguing and obscure facts that I hadn't yet encountered about countries around the world. You know, travel trivia question of the day type stuff, or trying to amuse myself with weird facts about countries on the planet of ours.
It occured to me that I really ought to turn this into an article, if only to pass along some of the country facts that I came across that wowed me. You may even be able to use some of these facts if you're putting together fun trivia about countries, but perhaps you're just looking to be amused, and that's perfectly fine as well, of course.
If you're keen on this sort of article, you might also like my article on ancient travel quotes worth remembering, or the 50 most inspiring travel quotes.
Without further adieu, here are 15 interesting facts about countries around the world that I thought were too interesting not to be shared.
Some of the Top Fun Facts About Countries Around the Globe
Before we dive into it, I would also urge you to leave a comment below if you've got an intriguing or weird facts about countries that you'd love to share. Perhaps I can incorporate them into this list!
1) NAURU IS, TECHNICALLY, HOME TO THE MOST OVERWEIGHT PEOPLE IN THE WORLD.
This small island nation in Oceania, officially known as the Republic of Nauru, statistically has the most overweight populous on the planet. Obesity afflicts for 97% of men and 93% of women in Nauru. Perhaps it has something to do with the fact that prior to being called the Republic of Nauru, it was called "Pleasant Island."
Not many people even know this country exists. It's a tiny island in Micronesia, a subregion of Oceania. Nauru's closest neighbour (300km away) is Banaba Island, which is part of another little-known island nation called the Republic of Kiribati.
2) AUSTRALIA IS THE ONLY CONTINENT IN THE WORLD TO HAVE NO ACTIVE VOLCANOES.
There are remnants of volcanoes in Australia, but the last time one erupted was thousands of years ago.
So, you can worry about being kicked in the face by a kangaroo, being attacked by spiders the size of small dogs, or coming face to face with the world's most poisonous snakes, but you do not need to worry about dramatic volcano eruptions disrupting your vacation in the Outback.
Hey, that seems like a fair trade, right?
3) ONE OF THE OFFICIAL ANTHEMS OF THE MICRO-NATION OF LADONIA IS THE SOUND OF A STONE THROWN INTO WATER.
There are so many interesting facts about Ladonia that the brains of geography trivia nerds will probably explode!
For starters, Ladonia is a 1 square kilometre plot of land inside a nature reserve in southern Sweden. It was founded in 1996 after a legal dispute over two large driftwood sculptures. Not a single citizen of Ladonia (apparently there were over twenty two thousand as of 2019) lives there, including the reigning Queen who is a US-born citizen still living in the United States.
This country has a bizarre history that you could fill an entire round of travel trivia with.
4) ALL OF CHINA IS ON BEIJING TIME DESPITE GEOGRAPHICALLY SPANNING OVER 5 TIME ZONES.
This is another doozy for geography trivia lovers.
The single time zone across China, also called China Standard Time, spans 4800 kilometers.
That's about the same width as the continental United States.
This causes all sorts of issues for the people living in China. For instance, if the sun rises at 6am on the far east side of the country, it does not rise until 10am for those in the west. Same goes for sunset, too.
5) AT 1896 KM, CANADA'S YONGE STREET IS THE LONGEST STREET IN THE WORLD.
I was born and raised in Toronto, have written a lot about Ontario for this site, and run a sister site called Ultimate Ontario, so it would be troublesome if I didn't know or include this one.
Yonge Street starts in downtown Toronto and ends in Rainy River – a small town on the US border to Minnesota.
Yonge Street held the Guinness-approved record of longest street in the world up until 1999 when the title was suddenly dropped. Some believe that Yonge Street ends much closer to the start in Keswick, a community on Cook's Bay north of Toronto.
Whatever you believe, Yonge Street is often the place to go for Toronto activities, and until anyone is officially told otherwise, this is the street that is getting the monicker for the longest street on the planet. On a side note, my Ebook, A Local Travel Writer's Guide to Toronto is still for sale on my site. It's currently retailing for $3.99, but you can get it for 50% off if you use the coupon code "INTERESTINGFACTS."
6) NEW ZEALAND WAS THE FIRST SELF-GOVERNING NATION TO GIVE WOMEN THE RIGHT TO VOTE IN 1893 – A MOVE THAT WAS FOLLOWED TWO YEARS LATER BY ITS NEIGHBOUR AUSTRALIA.
Is it just me, or does New Zealand seem to have more common sense than a lot of other nations? They came around to the obvious a lot quicker than the rest of us it would seem.
It took two decades to win the fight, but the New Zealand suffragettes finally won.
Since then, women have held positions in all key constitutional positions including prime minister, speaker of the House of Representatives, attorney general, and others (and as they should).. Just look at the way Jacinda Ardern has led the nation since 2017, especially through the pandemic, and I think you'd be hard-pressed to find a lot citizens anywhere on the planet who wouldn't want someone like her at the helm.
That, my friends, was a masterclass in leadership.
7) WITH ENORMOUS EXPANSES OF FOREST, RUSSIA PRODUCES THE MOST OXYGEN FOR THE PLANET.
I bet you thought it was the Amazon, right?
It's actually the boreal forest, a coniferous forest (pine and spruce), not a tropical forest that produces the most oxygen on Earth.
Also called the "Taiga Biome," it covers huge swaths of land in Eurasia and North America between the 50th and 70th northern parallels, Russia being the largest.
That was a country fact that totally surprised me, but I suppose it makes perfect sense when you consider the sheer size of the nation of Russia.
8) THERE ARE 23 NATIVE LANGUAGES RECOGNIZED BY THE GOVERNMENT IN GUATEMALA.
The official language of Guatemala is Spanish, but the 22 native languages of Maya, Xinca, and Garifuna citizens are officially recognized as well. I mean, I think that's how it probably should be. As a Canadian, I've always been a bit disappointed that our two official languages are English and French, when we have an Indigenous history that precedes the arrival of the English and the French. Surely we could have a few more official languages, no?
Anyway, back to Guatemala.
The majority of the languages are Mayan, while the two exceptions, Garifuna and Xincan, have Caribbean and unknown origins, respectively. For reference, less than 1% of the total population of Guatemala speaks these two languages, so I suppose even more credit goes to Guatemala for including them.
9) SOUTH SUDAN IS THE MOST RECENT COUNTRY TO DECLARE INDEPENDENCE, WHICH HAPPENED ON JULY 9, 2011.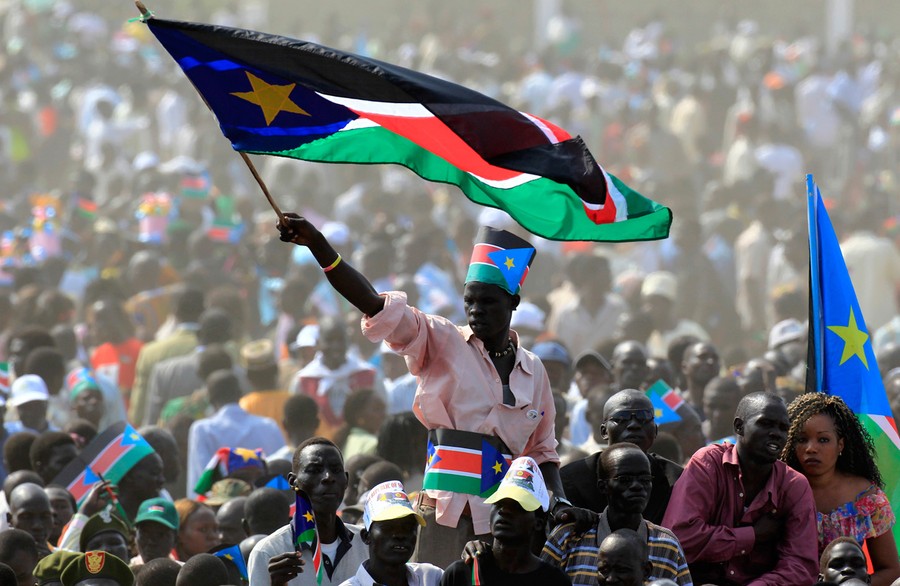 South Sudan declared independence from Sudan after a decades-long violent civil war, and quickly gained international recognition and membership to the United Nations.
Aside from South Sudan, Montenegro, Serbia, and East Timor have also gained undisputed independence in the 21st century. The Republic of Kosovo declared independence from Serbia in 2008, which is still hotly contested by Serbia and only recognized by 103 (of 193) United Nations Member States.
10) SWITZERLAND CONSUMES THE MOST CHOCOLATE PER YEAR WITH APPROXIMATELY 10 KILOS A YEAR PER PERSON.
Can anybody blame them? I certainly can't. Every beautiful city in Switzerland appears to have an even more beautiful chocolate scene.
Honestly though, why wouldn't you partake in a delicious industry that your country helped pioneer?
Since chocolate making began in Switzerland in 1819, they have continually worked to discover innovative new techniques. One Swiss chocolatier, Rodolphe Lindt, even patented his melt-in-your-mouth technique called "conching," which is still used to make Lindt's famous Lindor Truffles.
I know that you know exactly what I'm talking about.
11) CANADA HAS THE MOST LAKES ON THE PLANET. LUCKILY, I'VE BEEN ABLE TO SWIM IN A FEW OF THEM.
I touched upon this in my article for Ultimate Ontario on the top fun facts about Ontario, but yes, we've got a hell of a lot of lakes in this nation.
Over 60% of all lakes in the world to be exact, including Lake Ontario, Lake Superior, Lake Huron, Lake Michigan, and Lake Erie.
Those are some pretty great lakes (get it?), but that doesn't even scratch the surface.
Altogether, there are upwards of 2 million lakes in Canada with a total land area of 10 million square kilometers. To put things in perspective, and here's some fun travel trivia if I've ever heard it, there are more than 550 lakes in Canada larger than 100 square kilometres. That's astonishing, right?
12) IF YOU COUNT OVERSEAS TERRITORIES, THEN IT IS ACTUALLY FRANCE THAT COVERS THE MOST TIME ZONES WITH A WHOPPING 12.
French Polynesia, a territory of France located in the South Pacific Ocean, is actually 11 hours (or time zones) behind Paris.
As you can imagine, it's not France itself that all the timezones, but rather its various territories around the world.
Most people automatically assume it would be China or Russia, and that makes this fun fact a good one to break out at a dinner party.
13) THE FIRST TIME IRELAND EVER WON AN OLYMPIC MEDAL WAS IN THE CATEGORY OF PAINTING.
Yes, painting.
The category doesn't exist anymore, of course, but while it did Jack B. Yeats received a silver medal at the 1924 Paris Olympics for his painting titled "The Liffey Swim." The painting is displayed at the National Gallery of Ireland in Dublin along side other works he's created and several paintings done by his father, John Butler Yeats.
14) BOTH CHINA AND RUSSIA ARE BORDERED BY 14 COUNTRIES.
China and Russia are such large countries that you almost forget that quite a few countries line their borders. Aside from each other, they share three other countries at their borders – Kazakhstan, Mongolia, and North Korea. Of all 24 countries involved, the shortest border length is the 17km border between North Korea and Russia, and the longest is the 7512km border between Russia and Kazakhstan.
15) RWANDA HAS THE HIGHEST PERCENTAGE OF WOMEN IN PARLIAMENT
As of writing this, women occupy 61% of the seats in the Rwandan Parliament.
Historically, only 20 seats were reserved for women in Parliament. Today, 49 of the 80 seats are filled by women because females dominate the total population.
After the Rwandan Genocide in the early 1990's, when upwards of 1 million Rwandans were killed, more than half the country's total population was female. A silver lining to an awful tragedy.
Rwanda is a nation I've always wanted to visit, and I hope I'll get that chance sooner rather than later. I'm told the nature, and particularly experiences like gorilla trekking, are absolutely astonishing.