It is no secret that BTS is the sound of summer this year. Whether you are into K-pop or not, you've definitely heard these boys crooning, be it on the radio, Instagram, or the TV. The K-pop band is on the same success route (if not better) as legendary boy bands like Backstreet boys!
They even performed at the United Nations General Assembly a few days ago!
If you are a new fan, or are gradually falling in love with the seven charismatic boys in this group, here are some facts about BTS that you need to know to become a true ARMY.
1. BTS Stands for Bangtan Sonyeondan
While everyone has heard the term 'BTS,' many don't really know what it stands for. Well, it is a Korean phrase that means 'bulletproof boy scouts.' In 2017, however, BTS announced that their name would also stand for 'beyond the scene' as part of their new brand identity.
2. ARMY Stands for Adorable Representative MC for Youth
BTS has done super well for themselves, and the South Korean boy-band group has garnered astonishing fan following from all over the world. Their fans are called the ARMY, the full form for which is 'Adorable Representative MC for Youth.'
3. There Are Seven Members 
Most boy bands in the western part of the world have five members, but K-pop bands have been known to go up to double digits when it comes to members. BTS has a modest seven in the group. Their stage names are RM, Suga, Jin, Jimin, V, J-Hope, and Jungkook.
4. RM Learnt English By Watching 'Friends' 
The leader of the group is RM, which once stood for Rap Monster, but now means 'Real Me.' Kim Nam-Joon or RM is one of the best English speakers in this native Korean boy band and he has admitted that he got a grasp on the language by watching the popular 90s sitcom, Friends!
5. They Were Not Always This Popular 
Now famous worldwide, BTS once struggled to make ends meet. As strange as it sounds, they once lived in a one-room apartment together. They were not an overnight sensation and it took the band about 3 years to come into the limelight. Big Hit Entertainment held auditions for the group in 2010. However, the band did not make its debut until 2013.
6. Suga Was An Underground Rapper 
Before joining BTS, Suga was an underground rapper with the stage name 'Gloss.' He chose the name because it was very close to his birth name, Min Yoon-gi. Yoon-gi translates to 'shine' or 'gloss.'
7. Jungkook Wanted To Be A Tattoo Artist 
In an interview, Jeon Jung-Kook admitted that his 10-year plan was either to become a tattoo artist or the owner of a duck meat shop! He has not changed it to either become a tattoo artist or a composer/musician.
8. BTS Was Going To Name Themselves Differently 
Now that they are an international phenomenon, it's hard to imagine calling BTS by anything other than BTS. However, they almost named themselves 'Big Kidz' or 'Young Nation,' deciding on Bangtan Sonyeondan at the last moment.
9. They Produce Their Own Music
The famous K-pop group does all the work themselves. This means that they compose, write, edit, and record all their songs without any outside help. They do sometimes collaborate with other artists, of course.
10. J-Hope Was A Street Dancer
Image Credit: Instagram/bts.bighitofficial
One of the best dancers in the group, J-Hope has been in the world of dance for a long time. He used to be a street dancer with a dance group called Neutron. Jung Ho-Seok or J-Hope has won trophies in local dance battles in his hometown of Gwangju as well as national competitions!
If you are new to K-pop and cannot stop grooving to BTS, tell us which of their songs is your favourite in the comments below. If you are a seasoned part of the ARMY, go ahead and tell us about your bias.
BTS Forever!
Awesome Facts About BTS That You Should Know
BTS has a lot of meanings – the original one being "Bangtan Sonyeondan" which means "Bulletproof Boy Scouts" in Korean. It signifies deflecting stereotypes, criticisms, and expectations like bullets.
The acronym now also stands for "Beyond the Scene."
BTS consists of seven male members – Jin, Suga, J-Hppe, RM, V, Jungkook, and Jimin. The "leader" is RM.
This popular K-Pop group wasn't self-created – an entertainment company called Big Hit Entertainment held auditions to recruit members starting in 2010.
The ultimate group wasn't finalized until 2013.
BTS started gaining attention six months before their debut due to their presence on social media and song covers.
In March 2016, Forbes listed BTS as the most re-tweeted artist.
BTS released 29 music videos and 22 singles in just 6 years from 2013 to 2018.
The first album released by BTS was "Dark and Wild" which came out on August 19, 2014.
BTS put on their own variety show which they starred in called "Rookie King: Channel Bangtan."
As of July 2018, BTS has won 53 awards since their formation.
BTS is known for their lyrics that touch on sensitive topics like school bullying, societal ideals, mental health issues, suicide, nihilism, and female empowerment.
RM's initials stand for "Rap Monster," but his full name is actually Kim Nam-Joon.
RM learned English by watching the popular American sitcom "Friends."
RM is also the only member who can carry a conversation in English.
BTS member, Suga, is known for rapping in the band, but he also is proficient at the piano.
Jungkook is the youngest member of the group, born on September 1, 1997.
Fans of BTS are called "ARMY" which is an acronym for "Adorable Representative M.C. for Youth."
Unlike most K-Pop bands, BTS holds a leading role in producing most of their own music. Many people believe this is an attribution to their success.
BTS performed at the 2017 American Music Awards which was their first-ever TV performance in the United States.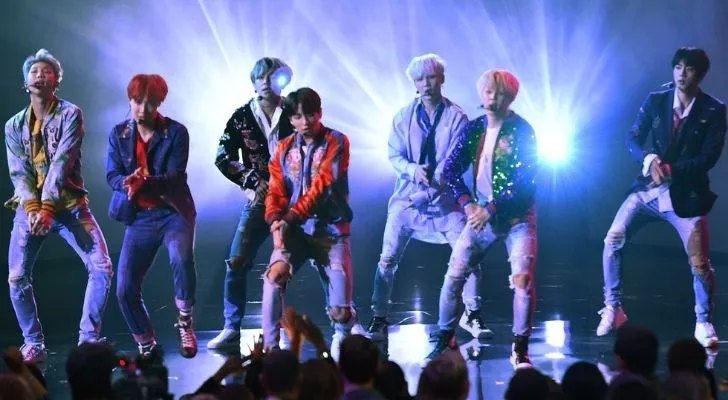 BTS was the first K-Pop group to get their own Twitter emojis.
The emoji was established as a challenge for BTS to find where their biggest fanbases were located. In the end, Brazil, Turkey, and Russia came out on top.
BTS has sold at least 7 million albums globally as of July 2018.
The third full-length album from BTS called "Love Yourself: Tear" launched at number one on the Billboard 200, which made them the only K-Pop group to do so.
Their album "Love Yourself: Her" retailed more than 1.2 million copies on South Korea's Gaon Album Chart in its first month of release. It became the biggest selling Korean album by month in 16 years.
BTS has two certified Gold singles – "Mic Drop Remix" and "DNA." There are the first and so far only Korean artists to acquire two Gold certifications.
BTS have been brand ambassadors for Puma since 2015.
Elsword, an RPG game by Nexon, revealed character avatars based on the members of BTS.
In 2018, Coca-Cola Korea brought on BTS as campaign models.
BTS donated seven tons of rice to charity in 2016 at the K-Star Road opening ceremony.
BTS has certainly done their share of giving back – in 2017, each member donated KR₩10,000,000 (roughly 8,950 USD) to the families of the 2014 Sewol Ferry Disaster.
Group member V played the saxophone for three years in school.
In the future, Jungkook has said that he either wants to own a duck restaurant or be a tattoo artist.
During their debut performance, Jin's pants fell down!
The members of BTS compete over the number of re-tweets their Twitter accounts get.
In the BTS dorm, they used to collect 1,000 wons from any member who broke a house rule.
Eventually, they got rid of the charge because people kept breaking the rules and the money they had to pay was too much.
The money they collected from this rule was mostly used to buy chicken and pizza!
After South Korea beat Germany in the 2018 World Cup, BTS's new song "Fake Love" climbed 31 spots in the charts.
The members of BTS moved into one of the most expensive apartment complexes in Seoul in late 2017.
For a little perspective, one of the units in the same complex sold for about 75 million USD.
Suga once said that if he became rich, he would buy fans beef, which is expensive in South Korea because of import fees. On his 25th birthday, he donated $19,000 worth of beef to feed orphans.
BTS is big into fashion, some of their favorite brands being Gucci, WTAPS, and Calvin Klein.
BTS landed a spot on Time Magazine's 2018 list of 25 Most Influential People on the Internet.
When BTS paired up with UNICEF, inspired fans eagerly donated to the cause and raised $1,000,000 in less than two days for UNICEF's campaign to feed malnourished children.
The shortest member of BTS is Jimin, who is 5.67 feet (173 cm) tall.
The tallest member of BTS is RM, who is 5.93 feet (181 cm) tall.
None of the BTS members are from Seoul, even though many people think so. They are actually all from different provinces.
Before Suga was introduced to hip-hop, Suga only listened to Classical music.
Originally, Jimin's stage name was supposed to be either Baby J or Young Kid.